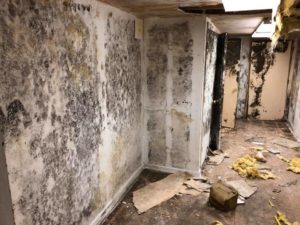 First Response Restoration is a mold removal and mold remediation company that provides service to Wyckoff, NJ, and the surrounding area. We are experts in mold removal and elimination, and can perform any and every associated task you may need to ensure the job is done right.
First Response Restoration is dedicated to offering the best customer service and results possible. We are aware that mold can pose a risk to your family's health as well as cause structural damage to your home, business, or property. Because of this, we take an all-encompassing approach to our mold removal services, beginning with a thorough diagnosis and a suitable treatment plan.
All aspects of mold clean up and removal are covered by the training and experience of our team of licensed mold removal professionals, including black mold removal. Our strategy focuses on prevention, looking for possible moisture and mold problems before they worsen. We work hard to help companies and homeowners in establishing safe, clean, and healthy surroundings.
Customer safety is our first concern at First Response Restoration. We constantly strive to offer extensive and all-encompassing solutions that address the problem at its source. A thorough examination of the property, environment , sources of humidity, and other environmental elements is one step in that process. We use the most recent technologies to identify and address any moisture and mold concerns as quickly and effectively as possible.
First Response Restoration recognizes the need of offering both urgent solutions for mold issues and developing long-term preventative plans to guarantee mold doesn't return. We are dedicated to assisting our clients in maintaining a secure environment free from dangerous toxins. We strive to make each project a success by customizing our mold removal services to meet the demands of each client.
Many clients have relied on First Response Restoration for more than 10 years to make sure their property is secure and mold-free. We promise the greatest levels of client satisfaction and stand proudly behind our work. Without sacrificing quality, our services are created to solve any and all mold concerns. 
You can trust First Response Restoration if you're looking for the best and most dependable mold removal and remediation services in the area. We are aware that mold problems must be resolved as soon as possible. Get in touch with us right now. We'll help you take on your mold problems head-on.
When You Have Mold In Your Home Or Business, It Is Important To Reach Out To First Response Restoration ASAP
To reduce the potential harm mold growth can do, it is essential that it is professionally removed as soon as possible. Growth of mold left unchecked can harm your home and health in the long run. A research from the Harvard University School of Public Health found that indoor mold is present in more than 50% of households. It is quite simple for mold spores to attach themselves to a damp surface and spread once they become present in your home. Many families are therefore exposed to the potential negative health impacts of indoor mold, including:
Watery or itchy eyes

Sore throat

Congestion

Coughing

Skin irritation

Asthma

Respiratory problems
In fact, a research from the University of Arizona indicates that mold spores are thought to be a contributing factor in the 20-year doubling of asthma rates. Knowing the truth about mold will help you maintain the safety and health of your family and home.
Mold remediation is one of First Response Restoration's specialties. We have the necessary mold removal supplies and tools to make sure that your mold problem is expertly resolved. To prevent mold spores from spreading to the parts of the house that are untouched during the mold removal procedure, specific precautions must be followed. Pieces of drywall or flooring that have been affected may need to be completely replaced during the mold clean up process.
First Response Restoration has the necessary licenses to both perform mold removal and restore the parts of the house that the mold has severely affected. We use the most current restoration and mold remediation techniques to minimize the risk of additional mold development while maintaining the area's structural integrity. We are readily available to our clients around-the-clock, seven days a week, and prioritize helping people feel at home again in their newly refreshed and restored space thanks to our mold clean up and black mold removal services.
Professional, Experienced & Certified Mold Removal Experts
Mold removal is a completely distinct technique from flood or fire repair work. To reduce the chance of the mold spreading further, the mold-affected area must be enclosed. To protect the technicians from the mold, specific safety measures must be followed, and the proper PPE must be worn. Finding the mold's source is an essential step in the mold removal process, although doing so might be challenging given the size and permeation of some mold growths. Mold can be found on wooden surfaces, under carpets, inside HVAC systems, behind sheet rock and walls, and inside concrete fissures.
Mold removal and black mold removal should be performed as soon as possible, especially to avoid any major health hazards for those who work or reside in contaminated properties. Mold spores can be spread throughout the home very easily, especially in wet or humid environments. The spores can get released into the air when you brush against an area that is harboring mold spores, which is another simple way of dispersing it. For many local residents and business clients, the staff at First Response Restoration has completed countless mold clean up and mold removal projects. Our crew has undergone IICRC training and certification and is knowledgeable about all current mold clean up techniques and procedures. To preserve the area's integrity as much as possible and prevent the possibility of future mold growth, we use the most current mold remediation and cleanup techniques.
Our mold removal and mold remediation process includes:
Damage & Cleanup

Drying

Mold Eradication

Sanitation

Complete Restoration
Call First Response Restoration immediately for mold removal: 1-888-681-1071