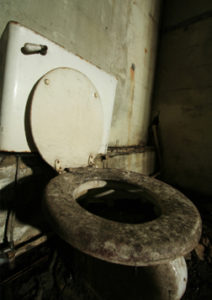 Sewage damage to your property should not be taken lightly. Furniture, flooring, walls, carpets, cabinets, personal belongings/inventory, and even the structure of the property can be damaged. That's only the tip of the iceberg though because these issues can lead to the growth of dangerous toxic mold due to the moist and humid conditions. It is imperative that the problem is found and fixed right away. Don't delay and let sewage damage become a bigger, more expensive problem by trying to clean the mess up yourself.
You need to call in the professionals when you have leaks, soggy cabinets, broken pipes, drenched carpets, garbage disposal leaks or any kind of standing water. The team at First Response Restoration is certified to properly and safely remove any sewage water from your home or business and to repair the problems it has caused. With the presence of harmful bacteria being present in the blackwater and the serious health risks that come with it, you shouldn't attempt to clean it up yourself.
Why You Should Choose First Response Restoration for your sewage cleanup:
Sewage Damage Cleanup and Removal
Fully licensed and insured technicians
Certified by the IICRC for safe cleanup
Safe disposal of waste and contaminated materials
Professional cleaning & sanitizing of all surfaces and belongings
Destroy all traces of bacteria, fungi, mildew, and parasites
Deodorization and disinfection of all problem areas
Use of high volume fans and dehumidifiers for good air circulation
It's always best to use a professional for your sewage cleanup problem. At First Response Restoration, we are able to properly disinfect and sanitize the affected areas and make sure the area is free of potential infection. If it is left untreated, sewage water can cause serious health consequences. Additionally, sewage spills can present significant property loss if the wastewater is leaking into your home or office building. A prompt professional response to sewer backups is important to reduce cleanup costs and minimize contamination time. The longer you wait, the more damage will occur which will result in a much larger cleanup process.
Although some sewage backup situations may be easily cleaned up, in most cases a restoration team should be called in to provide a thorough clean-up, beyond just what you can see. First Response Services brings professional experts to restore your property to a safe and sanitary condition following damage from sewage.
Call First Response Restoration for immediate help with sewage cleanup: 201-782-6500